The Savoy Commemorative Marker Dedication Ceremony
Sunday, May 26, 2002
The dedication ceremony on the cloudy Sunday afternoon turned out to be a delightful occasion. Frankie Manning, undoubtedly the most influential Lindy Hopper in the history, had just come back to New York from a vacation in South Africa two days before, and Norma Miller, another influential Savoy Lindy Hopper, had also flown in from Las Vegas. These were two of the top dancers from the famous Whitey's Lindy Hoppers in the 1930's and 40's and they were the ones who really inspired this successful effort to place a commemorative marker at the site of the legendary Savoy Ballroom. The day was also Frankie's 88th birthday, and, a few days before, the 75th anniversary of the purported namesake of the Lindy Hop, Charles Lindbergh's trans-Atlantic flight, was celebrated elsewhere by history buffs. A total of about two hundred people started gathering around the newly installed monument on the sidewalk of Lenox Avenue between 140th and 141st Streets well before 2pm, the scheduled time for the event. The mixed crowd included some of the other surviving members of Whitey's Lindy Hoppers as well as local residents who had been at the Savoy, relatives of Savoy dancers and musicians, a "newer" generation of swing dancers around the world whom Frankie and Norma greatly inspired, etc.. Some of the "old-timers" apparently had not seen each other for forty years and there was a lot of catching up to do. The ceremony itself was short and sweet. After the speeches by the invited speakers, Frankie and Norma were asked to cut open the material that covered the stone monument and unveil the plaque.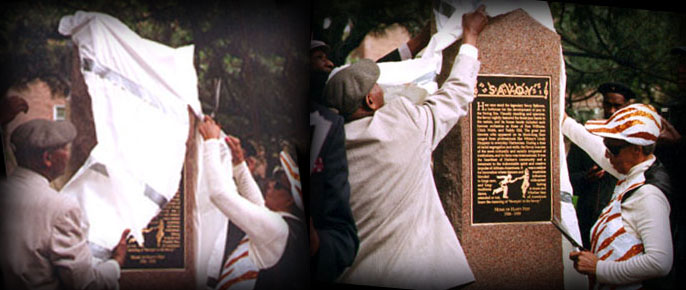 Unveiling of the monument by Frankie Manning and Norma Miller
With so many excited people, there just had to be some dancing on the street, so there it was. The level of excitement at the moment can be exemplified by one elderly man who was warned by a concerned neighbor that if he lifted his leg, he was going to call the ambulance, because he was not in any shape to jump up and dance like he used to fifty years ago! More dancing continued to a live jazz band at the reception held after the ceremony at Minisink Townhouse a block and a half up Lenox Avenue, where the original Cotton Club once stood.